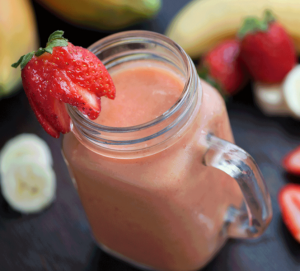 Recipes
Following a procedure, it may be difficult to enjoy certain foods for a period of time. It is crucial to follow the post-operative care instructions to avoid any discomfort or complications.
It is important to avoid slurping, sucking, or chewing on the affected side. Otherwise, there may be a risk of re-opening the wound. This may lead to bleeding and infection, thereby delaying the healing process. Although you will be limited to soft foods, it is still essential to maintain a nutritious and healthy diet. We understand that this temporary diet can be difficult, which is why we have come up with some simple and delicious suggestions for you.
Here are some of the clinic's favorite smoothie recipes!
This smoothie brings us back to fall and holidays! It contains almost 20% of your recommended daily dose of calcium and has almost no refined sugar, which solidifies teeth and helps healing.
Find some inspiration in these recipe videos!
Important:
Following an operation, it is important to avoid sucking or chewing
with the affected areas. Doing so could result in bleeding and infection,
which can delay the healing process or even cause the procedure to fail.